You cannot add "Experiment No.2" to the cart because the product is out of stock.
Dragon #44 – Northern Blue Dragon
by Alex Stone
8″ x 10″
Acrylic on Ampersand Pastelbord
Unframed
Product Width 16": 8"
Product Height 12": 10"
Medium: Acrylic
Product Surface Linen: Ampersand Pastelbord

$450 $450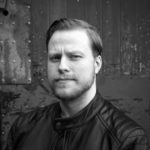 Alex Stone
Alex Stone is an artist and illustrator from Brooklyn, New York, currently based in Melbourne, Australia.

Alex's passion for painting is fueled by a love of narrative visual storytelling, and his vibrant work often recalls a sense of awe and nostalgia. He has been drawn to fantastical subject matter since he was young, and painting has always been a way for him to express his love of the genre. Alex graduated with a BFA from the Illustration program at the Fashion Institute of Technology. Since then, his work has found its way into books and card games, and is also a part of numerous private art collections.