Discovering Nyarlathotep's Temple
by Travis Lewis
"Discovering Nyarlathotep's Temple"
7×10.5″ Graphite on Paper
Ready to hang
Single matted and framed w/UV acrylic (framed dimensions are 13×17″ approx)
$495
And through this revolting graveyard of the universe the muffled, maddening beating of drums, and thin, monotonous whine of blasphemous flutes from inconceivable, unlighted chambers beyond Time; the detestable pounding and piping whereunto dance slowly, awkwardly, and absurdly the gigantic, tenebrous ultimate gods — the blind, voiceless, mindless gargoyles whose soul is Nyarlathotep.
—H. P. Lovecraft, Nyarlathotep
$495 $495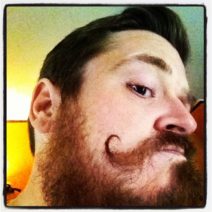 Travis Lewis
Fine artist and Illustrator based in Dayton Ohio.