Deflection
by Hilary Clarcq
Earlier this year, I started making abstract monoprints on an etching press purely for the fun of it. This piece marks the first oil painting that I've completed on top of one of those exploratory prints.
Starting with a monoprint has allowed me to compose abstractly on-the-fly, without knowing precisely what the final image will be. In this case, the shapes and textures in the initial print gave me the feeling of being caught up in a whirlwind and deflected off course. This concept really resonated with me, especially during these chaotic and uncertain times, and I sought to carry that feeling through in the final painting.
Details: Ink and oil paint on paper mounted to 1.75" deep cradled panel. Ready-to-hang, unframed. Signed in lower left.
Product Height: 6"
Product Width: 12"

$450 $450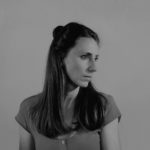 Hilary Clarcq
Hilary Clarcq creates mood-driven, figurative oil paintings. She has exhibited with galleries such as Abend Gallery, Helikon Gallery, and (yay!) Every Day Original. In 2019, she was one of three artists selected for the Muddy Colors Rising Stars Award. She has a B.A. in Fine Art and English from the University of Colorado, but she is self-taught as an oil painter. Hilary was born in upstate New York and currently lives in Boulder, Colorado.