WANT TO BUY EARLY?
Unlock 30 minutes early on our mailing list
"Nebulae" – Fish Shadowbox (Study)
by Daria Aksenova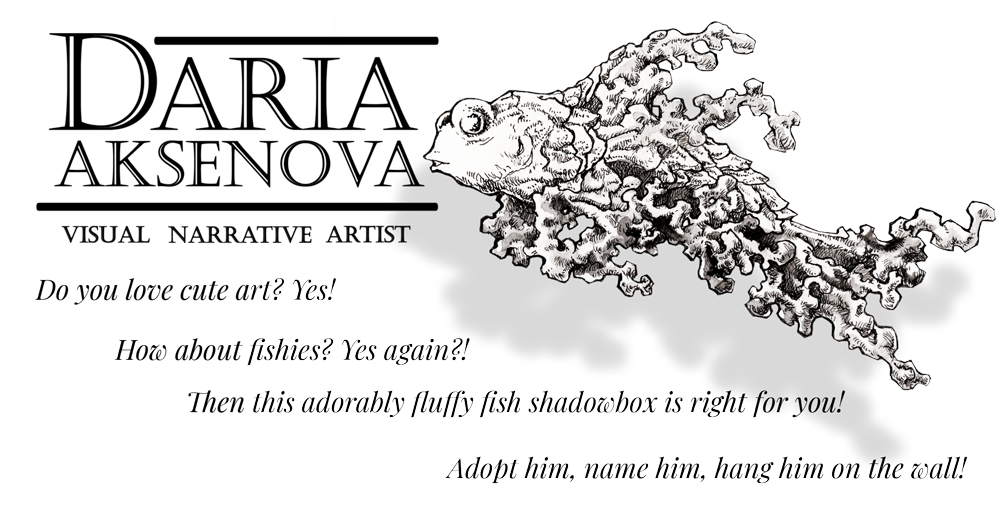 "Do you love cute art? Yes! How about fishies? Yes again?! Then this adorably fluffy fish shadowbox is right for you! Adopt him, name him, hang him on the wall!"
This fluffy cutie has earned the place to float in a shadowbox as a hand-cut, pen, and ink illustration.
I made this cute fish while trying to decide on several characters for the finished "Feeding Frenzy" piece. Initially, I wanted to hide him inside the Nebulae surrounding the space sharks, but I made him way too big. However, he is now able to swim by his lonesome, fluffy self happily. If your curiosity has got to you, then view the original "Feeding Frenzy" Shadowbox Paper Sculpture on my website over HERE. This piece is part of a duo. His shark shadowbox sibling is sadly long gone, but you can see his magnificent self over HERE.
I professionally framed this piece in a modern white frame, with archival materials, including True Vue Museum Glass. The work will ship wired and ready to hang for your convenience and will include a courtesy hanger. Grab your hammer or, in my case, a shoe and make him yours! 🙉🙊🙈
Now to the juicy details;
"Nebulae" – Fish Shadowbox (Study)

Medium: Pen, and ink on hand-cut, suspended, and layered watercolor paper.

Dimensions: 6.125" x 8.125" x 1″  (Framed to 7.25" x 9.5" x 1.5″)

15.56 cm x 20.3 cm x 2.54 cm (Framed to 18.4 cm x 24.1 cm x 3.81 cm)
Want to see more fantastic shadowbox artwork? Head over to my WEBSITE for more enchanting, meticulously detailed artwork, merchandise, and prints.
Rather ogle some previous Everyday Original works from yours truly? Head over to my ARTIST PROFILE.

I am running a sale on all the merchandise and fine art prints on my website until June 18th due to having to move my studio workspace. Feel free to peruse it HERE.


$350 $350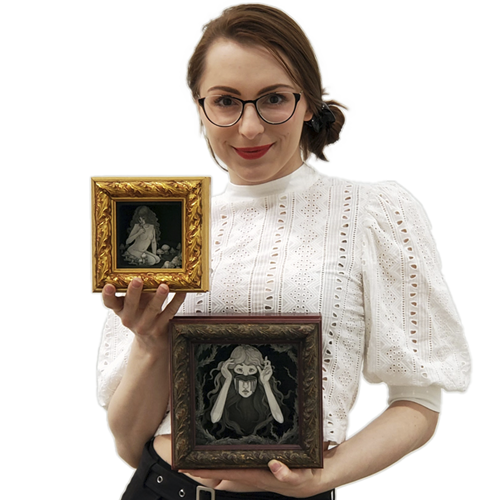 Daria Aksenova
Daria Aksenova is best known for her pen and ink, suspended, cut paper narrative shadowboxes. The current focus of her work is the creation of cinematographic storytelling through constructed dynamism - arising from layering and complexity of composition - within a static media, inspired by her past experience with the fashion and film industries.

Daria Aksenova uses ink as it is an unforgiving medium that precludes editing and demands precision. Individual elements are then hand-cut with a scalpel and suspended against each other until the desired depth is achieved. Her technique demands a steady hand and unfailing commitment, often requiring over a hundred hours of dedication and intimacy with each piece.

The Subject matter choice is driven by her interest in symbolism, often reflecting conflict inherent to the human condition, as echoed through mythology and folklore. The balance of playful storytelling coupled with deeper-seated significance provides unique yet relatable work. Her pieces evoke a dreamscape-like narrative that pulls in both the eye and mind, presenting space and opportunity for the imagination to wander into a deep narrative that can only be experienced first hand.