Companions
by Ania Mohrbacher
This little girl and her squirrel friend have shown up a few times in my recent paintings.  It appears that she has lost her pointy hat in this one.
This is a watercolor painting on Sennelier watercolor paper and it is approximately 6×4 inches.
$185 $185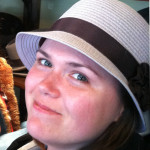 Ania Mohrbacher
Ania Mohrbacher is an imaginative fantasy artist living and working in Chicago. She works in a variety of media ranging from watercolors and acrylics to a variety of digital tools. While some of her most iconic work is digital, her breadth of experience with watercolor comes to the forefront with her most recent series. She is currently working independently, creating work for self published projects and gallery shows.

Using classic fairy tale characters and themes, Ania builds enchanting moments of wonder and melancholy with a noticeably surreal bend. Every piece is infused with a style of unique organic pattern work that makes her drawings instantly recognizable. Her individual language of patterns and textures permeate every character and object in her worlds giving them a distinctly dreamlike quality.