WANT TO BUY EARLY?
Unlock 30 minutes early on our mailing list
Blood Quantum
by Winona Nelson
All my life I've been disturbed by the idea of blood quantum. At 25% I am an enrolled member of the Leech Lake Band Of Minnesota Chippewa. This is the minimum required by my tribe to be granted tribal citizenship. Unless I had children with another registered and enrolled Native person with sufficient blood quantum, my children will not be able to be enrolled as tribal members.
I've known this since I was a kid. It's a complicated subject and is embraced by some tribes as a safeguard for their cultures, but one thing is certain: blood quantum is a colonial concept, not one that comes from traditional kinship ties. It is designed to slowly breed us out of existence.
When determining who was a full blooded Indian after the passage of the Dawes Act, one of the tests used required the tester to scratch the testee's chest with their fingernail and to measure the response using a color scale. This method of testing was eventually discredited for being inaccurate, but its results in tribal citizenship surveys weren't reexamined. In this and other ways many Native people were disenfrachised to free up their land for white settlers. The basis for initial "blood quantum" was always intended to erase rather than protect Indians.
Graphite powder, acrylic, and glass beads on canvas.
Product Height: 13 inches
Product Width: 10 inches
Product Surface / Material: Canvas

$400 $400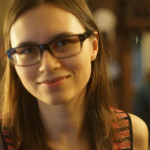 Winona Nelson
Freelance artist based in Philadelphia, working in illustration, concept art, comics, and fine art.