WANT TO BUY EARLY?
Unlock 30 minutes early on our mailing list
Belladonna in Green
by Kelley Hensing
This piece is a reflection of the beautiful but deadly variety. It was inspired by some of the unusual practices of the Victorian era, conducted in the name of fashion and beauty. The first would be her lovely green dress. It may seem surprising, but one of the green dyes of that time era actually contained arsenic. (Poisonous to both the wearer and even more so the maker.) Another feature included are popular toxic plants used during that time, most notably the Belladonna flower. Also known as deadly nightshade, ladies would have used it to enlarge their pupils, which they felt made them more attractive. (Interestingly, this ingredient is still sometimes utilized by optometrists for eye exams.) In addition, arsenic and other toxins readily available back then became a devious method of using poisons against their foes. (Thus reflected in the shadowy eyes hiding in the dress folds.)
Medium: oil on wood panel
Frame: vintage, oval gold wood (has some minor chips/wear)
size: art 9.5 x 21, with frame 14 x 25 inches (last pic shows hand for scale)
She is the first in a series of Victorian lady images I'm creating, for use in a set of my prints and of note cards series.
$770 $770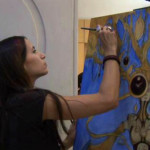 Kelley Hensing
Kelley creates new pieces every month! Feel free to contact her for a current list of work available from the studio. She accepts commissions both big and small, and will be happy to create something strange and special to match your price range.

Bio: Kelley is inspired by the mysterious. She grew up in a house by the woods surrounded by animals and wilderness, so many of her themes bring together strange nature, mortality and spirituality. Using archetypes of characters from folklore and myth as well as her own stories, she enjoys portraying unusual tales that symbolize our emotions and fears.

Kelley is an artist residing in Brooklyn, NY. She earned her MFA from the School of Visual Arts and her BFA from the Rhode Island School of design. Her favorite mediums are oils on wood and pencil on paper, and she loves to create her work by hand. Her favorite genres range from gothic and steampunk to classic fantasy and legends. Traveling is her only other passion equal to a career in art and is a vital component in inspiring her work.