WANT TO BUY EARLY?
Unlock 30 minutes early on our mailing list
Autumn Sun
by Kelsey Garland
"We delight in the beauty of the butterfly, but rarely admit the changes it has gone through to achieve that beauty." – Maya Angelou
"Autumn Sun" is made with ArtResin, Alcohol Inks, Acrylic paint, and hand-cut paper. Using a silicone mold, I create a background of Resin and Inks and paint onto the Resin and then layer with and more resin again to create a unique, three-dimensional painting that is constructed entirely by hand. I paint realistic wildlife on top of resin and then encase each image in more resin, forever entombing my work.
This painting measures 6.5 inches & comes with a sawtooth bracket attached to the back for easy hanging. depicted are a Buckeye Butterfly and Comet Moth.
$250 $250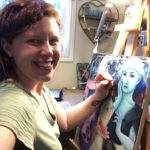 Kelsey Garland
Kelsey Garland is a Mixed Media Painter who uses ArtResin and Oil Paint to create unique three dimensional artwork. Her paintings often depict realistic animals or figures on top of a geometric pattern and an abstract alcohol ink background. She uses Resin to "layer" her paintings, alternating between detailed Oil imagery and thick layers of transparent Resin.

Kelsey graduated from Cornish College of the Arts in Seattle with a BFA in Fine Art. She is now a Stay at Home mom to two boys in the Tacoma area.