WANT TO BUY EARLY?
Unlock 30 minutes early on our mailing list
As high as our dreams
by Dianita
I have memories from when I was younger, I used to look up to the stars when I felt the world was overwhelming. It was still dark enough to see many stars in the sky and to observe some falling stars when I was lucky (meaning  when I woke up at 3am on a school day to catch the peak of the meteor showers!). Suddenly I felt curious about the universe, and my perspective of life changed in those small moments of ingenuity and excitement. Aren't moments like those when we dare to dream bigger?
I made this piece with those memories in mind.
These characters of mine are a little tribute to Afro-Mexican communities. Juanita and Benito (the winged jaguar) "live" in a magical version of the "Sierra de los Tuxtlas" (Tuxtlas Mountains) in Veracruz, Mexico – my home state -.
This is the finished drawing that will be the foundation of a future oil painting.
Other ways to support my work:
https://www.patreon.com/artbydianita
Drawing measures 8 in x 10 in and comes framed.
Materials: Graphite (pencil, mechanical pencils and powder) on paper (Moleskine – warm white).
Width: 8 in (20.32 cm)
Height: 10 in ( 25.4 cm)
Frame width: 11 in (27.94 cm)
Frame height: 13 in (33.02 cm)

$320 $320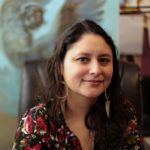 Dianita
Dianita is a fantasy artist born in Veracruz, Mexico. She has found that Fantasy provides her with the perfect language to portray her deepest emotions. It's where she finds freedom to explore fears, hopes and that wish for connection between all living creatures and our world.

Cover artist for Mermaids Monthly magazine (April 2021). Artist for "The Unbridled Spirit Tarot" (Llewellyn, 2024).