WANT TO BUY EARLY?
Unlock 30 minutes early on our mailing list
Anemone
by Tiffany Dae
Anemone, 8″x10″, oil on aluminum
At the edge of the world, where the seas kiss the stars, there is a queen so fierce she inspires all. You may have sat on a sandy beach and tried to glimpse her over the waves. Or laid on your back during a clear night to try and see her face in the moon. Not many will see her, for she is rarely caught.
But sometimes, if you're particularly lucky, you may catch a glimpse of one of her three daughters.
They are the muses, and while they are all very different, one similarity bonds them together: they are just as curious to get a look at you, as you are of them.
That's not to say they're easy to spot. I'm afraid they're quite cunning, and very slippery. But they're always there in the corner of your eye, wondering about what magic mankind will create next.
Product Height: 10 inches
Product Width: 8 inches

$425 $425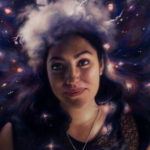 Tiffany Dae
Dae is an imaginative realist painter born in Hawaii to migrant parents from Cuba and India. Raised with a passion for culture and environment, she's evolved masters' classical oil painting techniques into otherworldly and imaginative works.

Dae studied classical painting techniques at the Georgetown Atelier in Seattle, WA. Since graduating she has been working diligently in her studio to bring fourth postcards from another world.