WANT TO BUY EARLY?
Unlock 30 minutes early on our mailing list
Amor Fati
by Nicholas Elias
"A blazing fire makes flame and brightness out of everything that is thrown into it."
-Marcus Aurelius
Amor Fati is the essential concept of Stoicism – to accept, to trust, and to love your fate (which is in fact your life, as Nietzsche said). This embrace fuels your potential, letting go of what is outside of your control, so that you may flourish with the hand you are dealt. Often  it is struggle and pain that acts as the clearest mirror to our own strengths and weaknesses, elucidating our true potential. What we do in the face of the fires of fate – that is our true test of virtue.
Marcus Aurelius would say burn it all – and let that propel you forward. Amor Fati!
$450 $450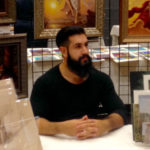 Nicholas Elias
Nicholas Elias is an illustrator currently living in Long Island, New York with his best pal (read: puppy) Lucy. Working primarily in the entertainment and games industries, the fantasy genre provides a perfect umbrella for his focus on narrative and emotional works. Servicing commercial and private clients alike, Nick brings his love of drawing and painting and his passion for history, mythology, and storytelling to each assignment.