WANT TO BUY EARLY?
Unlock 30 minutes early on our mailing list
A dream of summers to come
by Dianita
Summer is such a bittersweet season. This year it has proven to be very challenging and not only because of the scorching Sun. It inevitably brings memories of tremendously hot Summers back at home.
Sunflowers are joyful though. I've never seen so many sunflowers in my life! I've found them to be comforting, next to busy roads in empty lots just existing. Happy to be receiving the sunlight and the warmth. But even with them, sometimes I just wish Summers brought happier things. This year's challenges have left many of us feeling like we don't have the strength to go on. Frustrated that not even the most beautiful sunflower can bring a smile to our faces.
We sit and wait. Sometimes we get angry and we change. We fight and sometimes, the ones who fight the hardest can also feel the weight of the scorching Sun. It drains, it dries. It evaporates hope. We dream and hope that next Summer will be better. Hugging sunflowers in our minds. We try to steal their joy, the strength in the strangest and historical conditions. We hope next time we can watch the new sunflowers under a kinder light.
This piece is a graphite drawing. It's size is 8in x 10 in and comes framed with acrylic instead of glass for better protection. Photographed without acrylic "glass" to avoid excessive handling (and static).
International orders, please be aware that to receive your package, you might need to pay custom taxes in your local customs office (VAT or any that applies to your country)
Size: 8 in x 10 in.

$450 $450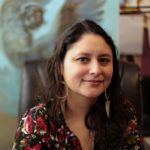 Dianita
Dianita is a fantasy artist born in Veracruz, Mexico. She has found that Fantasy provides her with the perfect language to portray her deepest emotions. It's where she finds freedom to explore fears, hopes and that wish for connection between all living creatures and our world.

Cover artist for Mermaids Monthly magazine (April 2021). Artist for "The Unbridled Spirit Tarot" (Llewellyn, 2024).