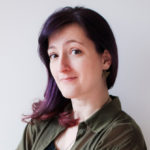 Melissa Sue Stanley
Website | More EDOs
Melissa is an artist in Chicago, IL. She creates fantastical moments of deep magic and mystery through delicate graphite drawings of witches and monsters of folklore. She's currently working on a series of illustrations and a short story about Baba Yaga's chicken-legged hut.

Melissa is also the creator of the World of the Woolbeasts: a storytelling project that explores a colorful, magical forest of creatures through sculpture, illustration, and short story.

When not working on those projects she works with her husband, Max Bare, as an illustrator for local breweries including Revolution Brewing. Together they create beer labels, comic books, and other fun stuff.
Melissa Sue's EDO GALLERY