Subconscious
by Anna Christenson
This piece was originally created for the 2016 Month of Fear challenge, "Secrets."
It is comforting to think we have 100% control of our own bodies and minds, but it seems that in reality we are always moving, always acting, outside of what we consider our "self." Unconscious thought (and sometimes conscious thought), our physical state and health can sometimes feel like a separate entity. Our lives can be consumed with understanding the secrets of this inner monologue and comparing it to others.
Product measures 13″ x 15 1/4″ framed.
$175 $175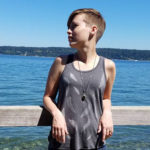 Anna Christenson
I am a concept artist and illustrator living in Decatur, GA. In my work you'll find my interests in nature, beauty and horror, psychology, and story.
WE EXPANDED!
Check out our new Artsy gallery with more work from your favorite artists.