Serpentine
by Miranda Meeks
This oil painting combines some of my favorite subjects with the intention of creating dark and intriguing imagery.
$300 $300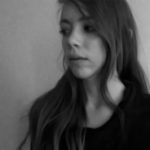 Miranda Meeks
Miranda graduated from Brigham Young University with a Bachelor of Arts in Illustration. She currently lives in Utah with her husband, two children, and a black cat.
WE EXPANDED!
Check out our new Artsy gallery with more work from your favorite artists.