Hester Prynne
by Ashly Lovett
Hester Prynne. Self-promotional illustration for the novel The Scarlet Letter.
Watch a time-lapse of me working on this piece here: Ashly Lovett YouTube
Artwork size: 12.5×16.5
Unframed
Matted with a 1.5″ border. Black mat. Will fit in a 16×20 frame.
Not Framed

Important: My pastels are not sprayed with fixative because fixative alters the color drastically. It will be shipped safely in a foam case making it easy for transport to a frame shop. I travel with my pastels this way all the time. Framing instructions will be included.
Contact me at alovett@ashlylovett.com for a framing quote.
Already matted. Ready to fit in a 16×20 frame.
$500 $500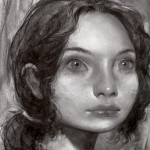 Ashly Lovett
Ashly Lovett is a freelance illustrator and gallery artist working primarily with chalk pastel for the horror and fantasy genre. She is known for her illustrative portraiture with romanticism undertones. She has done licensed work for Jim Henson Company, Adult Swim, Netflix, Focus Features, Archie Comics, and Monty Python, etc. She received her BA in illustration from Ringling College of Art and Design and has been published in Spectrum Fantasy Art Annual 22-26, Society of Illustrators of Los Angeles, Infected by Art Vol 5-7, and more. Clients include Boom! Publishing, Lindstrom LLC., Hackle TV, ArtOrder, etc.
HOLIDAY SHOPPING?
We are gifting FREE shipping through Dec 23rd
CHECK OUT THE LATEST RELEASE