Geillis
by Ashly Lovett
"I bind unto myself today the Power of the Gods and Goddesses. " This is a sister piece to Claire.
See a 15sec time-lapse video of this illustration's making by clicking here.
$250 $250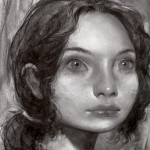 Ashly Lovett
Ashly Lovett is a freelance illustrator and gallery artist working primarily with chalk pastel for the horror and fantasy genre. She is known for her illustrative portraiture with romanticism undertones. She has done licensed work for Jim Henson Company, Adult Swim, Netflix, Focus Features, Archie Comics, and Monty Python, etc. She received her BA in illustration from Ringling College of Art and Design and has been published in Spectrum Fantasy Art Annual 22-27, Society of Illustrators of Los Angeles, Infected by Art Vol 5-7, and more. Clients include Boom! Publishing, Lindstrom LLC., Hackle TV, ArtOrder, etc.