Cleopatra
by M Scott Hammond
A retrofuturistic version of the historical Cleopatra, combining elements of Art Deco and ancient Egyptian design. A Dieselpunk original, with all the accompanying robotic minions, dramatic lighting and noir themes.  Detail abounds in this meticulous ballpoint pen and ink drawing.
Ballpoint Pen and Ink
8.5″ x 11″
Strathmore 300 Series Paper
Product Height: 12 inches

$300 $300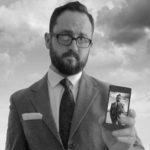 M Scott Hammond
Scott is an artist and illustrator living in Washington State. Inspired by his Pacific Northwest home, much of his art reflects his love of the natural world. Myths also resonate through out much of his work, exploring the worlds of fantasy and speculative fiction.

Pen and ink remains his favored medium, having developed a love of drawing from a very early age.



WE EXPANDED!
Check out our new Artsy gallery with more work from your favorite artists.