WANT TO BUY EARLY?
Unlock 30 minutes early on our mailing list
The Joy of Spring
by Ania Mohrbacher
Until recently, I don't think I realized to full extent just how much I'm inspired by nature.  It feels silly,  that it took me this long to notice!  I don't think that I've made an image in many years, that did not feature plants or flowers of some kind.  So now that the spring is in full swing, and there are many wildflowers outside my windows, I feel the need to paint even stronger.  And with it comes the joy that I have not felt in quite a while.
The frame size for this image is about 8×10 inches
Product Surface / Material: Moleskine Watercolor Paper
Product Height: 7"
Product Width: 5"

$300 $300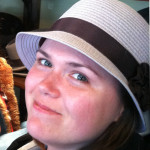 Ania Mohrbacher
Ania Mohrbacher is an imaginative fantasy artist living and working in Sarasota. While she has experience with a variety of traditional media, her current favorite is watercolor. She is currently working independently, creating work for self-published projects.

Using classic fairy tale characters and themes, Ania builds enchanting moments of wonder and melancholy with a noticeably surreal bend. Every piece is infused with a style of unique organic pattern work that makes her drawings instantly recognizable. Her individual language of patterns and textures permeate every character and object in her worlds giving them a distinctly dreamlike quality.