Skulls and Tentacles Again
by Travis Lewis
I've been out of the country for a few months. I'm working on a project where I basically draw skulls and tentacles every day… big surprise, eh?
The title for this piece is unimaginative, but I think it sums it up.
Please note, I'm out of my studio and working without a scanner. The product image  is a poor iPhone shot, so this piece looks much nicer than I can represent here.
Also  I am traveling until July 7th. This piece will ship after then.
Size: 7×7"
Medium: Graphite
Surface: Paper
$375 $375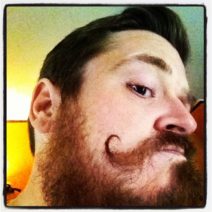 Travis Lewis
Fine artist and Illustrator based in Dayton Ohio.