A Little Bird Once Told Me
by HopeDoe
The stories we tell are from what we hear, and drift far from us as they change into something else.
5.5″ by 7″ Sumi ink and watercolor on watercolor paper stretched on a wood panel. Frame (with plexiglass not shown in image) is included
Product Height: 5.5"
Product Width: 7"
Product Surface: Watercolor Paper

$325 $325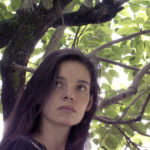 HopeDoe
Hope is an American artist currently residing in Mie, Japan. With her interests in Japanese traditional arts and growing up in a western culture, she creates a unique blend of the two influences. Her work has a strong sense of narrative, which contains a tinge of mystery and the unknown. Her artwork is often molds humanity with the natural world giving the sense that humanity is one in the same, and shouldn't be a separate entity.

Her work contains a variety of mixed media, including sumi, graphite, oils, and watercolors.