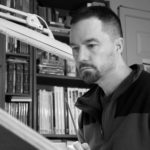 Allen Douglas
Website | More EDOs
Allen Douglas was educated at Syracuse University and has been freelancing as an artist for over twenty-two years for many notable editorial and book publishing clients, including Penguin Putnam, Tor, Berkley, Random House, Scholastic, HarperCollins, Harcourt, Little Brown, Macmillan/McGraw-Hill, Disney- Hyperion, Bloomsbury, Bookspan, Wizards of the Coast, Upper Deck, Weekly Reader, and Realms of Fantasy. Some of the licensed properties he has created work for include Star Wars, The Lord of the Rings, A Game of Thrones, Percy Jackson and the Olympians, and Dungeons and Dragons.

His artwork has been recognized by many prominent juried illustration competitions including Spectrum: The Best in Contemporary Fantastic Art, the Society of Illustrators of New York and Los Angeles, Art Renewal Center's Annual Salon, Ballistic Publishing and Step-By-Step Graphics.

When not working on commercial illustration assignments, Allen is creating artwork that, while firmly dwelling in the realm of imaginative realism, plays homage to the natural world, depicting animals in both a familiar and unexpected way. He often turns to folklore for the concepts of his work and distorts size relationships, environments, or the animals themselves to create visions that are truly unique, while at the same time paying homage to animals' natural physical attributes and behaviors.

His studio is located in Rochester, NY on the southern shores of Lake Ontario.