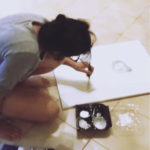 Silvia Pavarini
Website | More EDOs
My name is Silvia, I'm an Artist from Italy, I live next to a wood and my walks among the big trees, give me images of enchanting queens, strong and mysterious heroines.

In my style it is dreamlike, I represent female figures with firm and immobile faces with epidermal sensitivity. Their bodies are wrapped in a large patch of color, from which floral elements, confetti, leaves and nature come out!

my Artwork here:
www.silviapavarini.com
IG: @silvia.pavarini
FB: Silvia Pavarini Contemporary Art

My works are exhibited the galleries and published in the magazine of Art.
Beautiful Bizarre magazine (Australia) - Artwhirl Gallery (New York) - Inverarity Gallery (Scothland) - Penumbra Gallery (Portugal).