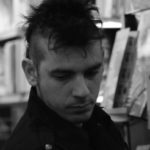 Daniele Serra
Website | More EDOs
Daniele Serra is an Italian illustrator and comic book artist. His main influences and inspirations arrive from weird and horror fiction written by H. P. Lovecraft and William H. Hodgson, Ridley Scott movies, japanese horror films and long time collaborator Clive Barker's works.
His love for horror culture started before his painting career, making him quickly develop his signature style: high contrast paintings with bright, as well as strong dark colors, curved strokes and shadows, and a particular attention to his character's gaze and expression.
As a comic book artist Daniele worked for Image Comics (Fade to Black, written by Jeff Mariotte), BOOM! Studios, (Clive Barker's Hellraiser: Bestiary), Titan Comics (Darksouls), IDW Publishing (The Crow: Memento Mori, written by Micol Beltramini), Seraphim INC. (Clive Barker's Hellraiser Anthology volumes 1 and 2, both covers and interior art).
In 2014 Daniele worked with worldwide bestselling author Joe R. Lansdale, on the Graphic Novel "I Tell you it's Love" for Short, Scary Tales Publications. Daniele's illustrations have been included in books by Stephen King and Ramsey Campbell and he provided the art for Graphic Novels working with authors like Clive Barker, Marcello Fois and others.
In 2018 Daniele works on "Tommyknockers" by Stephen King (PS Publishing), providing the art for all the three wraparound covers, the interior illustrations and the boxset.
The same year he also worked on a soon to be published project, written by Cullen Bunn.
Daniele's works include over 250 book covers for publishers from all around the world, most notably: "The Big Blow" by Joe R. Lansdale, "Voices from the Borderland" by William Hope Hodgson, "Hellraiser: The Toll" by Alan Miller, "Deep Like the River" by Tim Waggoner and "Frankenstein in London" by Brian Stableford as well as artworks for various music releases, like: "IX" by Shining, "Madman - Szpital Box" by :wumpscut: and "Laurestine" by So Hideous, and also the cover of the limited deluxe edition of the "Nightbreed: The Cabal Cut" Blu-Ray.
Daniele's illustrations have been used as the set dressing of the film adaptation of Stephen King's "CELL" directed by Tod Williams and starring John Cusack and Samuel L. Jackson.

A word from Daniele's collaborators:
"Daniele Serra makes art of great sensivity and subtlety – he can communicate more in the shape of a line and the shade of a tint than many painters convey in an entire canvas. Look into his world and it looks deep into you."
-Ramsey Campbell

"Unique and stunning. Daniele is a fantastic artist."
-Joe R. Lansdale

Two time winner of the British Fantasy Award as Best Artist (2012, 2017) Daniele lives in Sardinia with his wife, his cats, a lot of exotic insects and a huge collection of horror books and
movies.