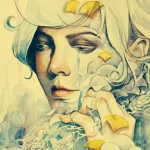 Daria Theodora
http://www.xintheodora.com
Daria Theodora is freelance illustrator and gallery artist living in the Boston Area. She works with a variety of materials ranging from oils, inks, colored pencils, gouache and watercolor, all the way to digital works. What remains the same is her unique visual language that combines intricate detail, delicate yet confident line, and the big influence from manga.
Her works have been featured in Spectrum 25, ImagineFX, 
Illustration Age
, and Illustration West 54 and 55.  She has also participated in several groups shows, including but not limited to, Haven Gallery (Northport, NY), Helikon Gallery (Denver, CO), La Luz de Jesus Gallery (Los Angeles, CA), and Light Grey Art Lab (Minneapolis, MN).
In her spare time, she enjoys leisurely strolls in the woods, biking, traveling, and finding the best coffee and ice cream in town.
Daria Theodora has been with us on
EDO since 2015
, and each of her pieces have sold. Every time she posts we look forward to what she has in store for us. All of her illustrations and paintings are full of rich and expansive imagery that require multiple viewings. Her auction piece this month takes those same threads from her monthly Every Day Originals, and take the emotion and narrative to an even richer and deeper resonance.
To learn more about Daria Theodora and her work, be sure to follow her on social media.
Are you interested in this upcoming auction?
Sign up for Exclusive Auction Previews.
Whoops, you're not connected to Mailchimp. You need to enter a valid Mailchimp API key.