VICTORIO
by greg ruth
This is an original one of a kind sumi ink drawing on Strathmore Alexis 400 drawing paper. I made this oiece as a portrait of the famed Apache chief, and brother to the sorceress/warrior, Lozen, Victorio. Largely as part of my ongoing exploration of the apache tribes for my graphic novel with Ethan Hawke, INDEH due out next summer from Hachette Books.
It's a fairly large piece, measuring roughly 12″x 16″.
$320 $320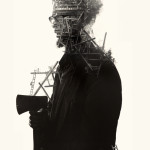 greg ruth
​Greg Ruth is a New York Times Bestselling Author of The Lost Boy and has worked making books and comics since 1993. He is published through The New York Times, DC Comics, Fantagraphics Books, Caliber Comics, Dark Horse, Harper Collins, Macmillan, Hyperion, Simon and Schuster, Random House, Slate, CNN, Penguin, and Tor. He has created two music videos for Prince and Rob Thomas, and has worked on nearly a dozen children's picture books including Our Enduring Spirit (with Barak Obama), Red Kite, Blue Kite (with Ji Li Jiang), A Pirate's Guide to First Grade ( and Recess) (both with James Preller), and his latest from Feiwel & Friends entitled Coming Home. His comics work includes Conan: Born on the Battlefield (with Kurt Busiek), Freaks of the Heartland (with Steve Niles), Sudden Gravity, The Matrix Comics and Goosebumps with R.L. Stine and is currently wrapping up (INDEH with Ethan Hawke). He lives and works in Western Massachusetts.