Unrequited
by Nicholas Elias
Unrequited is an experimental portrait of Circe, the cunning and dangerous goddess as seen in Homer's The Odyssey.
In the classic epic, we meet Circe in Book 10 as Odysseus' men enter her hall deep in the woods of Aeaea. Only Odysseus manages to resist the Goddess's seductive magic, earning her respect and thrusting the two characters into a story of love and lust. Therein lies the tragedy of Circe's story: the goddess, like Calypso before her, becomes entangled in an unrequited love with the titular hero.
This Art Nouveau inspired take on the mythical witch is a mixed media piece done with watercolors and ink on Arches Hot Press watercolor paper.
Product Height: 9"
Product Width: 9"
Product Surface: Arches watercolor paper

$300 $300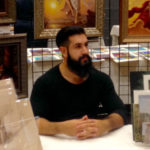 Nicholas Elias
Nicholas Elias is an illustrator currently living in Long Island, New York with his best pal (read: puppy) Lucy. Working primarily in the entertainment and games industries, the fantasy genre provides a perfect umbrella for his focus on narrative and emotional works. Servicing commercial and private clients alike, Nick brings his love of drawing and painting and his passion for history, mythology, and storytelling to each assignment.