"Tangled"
by BabsWebb
"There are tales of witches who fuse with their familiars to become a powerful creature both beast and human. It's a dangerous endeavor, as their souls can become tangled, causing both body and mind to deteriorate into a monstrous abomination."
Powdered Graphite & Acrylic on Bristol
Matted to fit a 10×10 frame.
Product Height: 5 Inches
Product Width: 5 inches
Product Surface: Strathmore 300 Series Smooth Bristol

$380 $380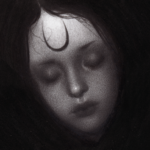 BabsWebb
Babs Webb is a Colorado-based dark fantasy artist with an affinity for the occult. Through strongly symbolic visuals, she strives to convey the visceral emotions that push the boundaries of our humanity; a shrewd clash of psychology and fantasy.