WANT TO BUY EARLY?
Unlock the Add To Cart button
30 minutes early
Solstice Sleeper
by Emily Poole
As spring gives way to summer, which then buckles under the crisping bite of fall, the white blossoms of western bunchberry give way to cheerful clusters of red berries. Many of the creatures in the hemlock grove by the lake take part in this berry bounty before the snow arrives, especially the long-tailed weasel who keeps his den at the base of the largest hemlock tree. As the first frosts of winter begin to harden at the edges of the lake and the last few berries are eaten, the weasel's coat turns from warm brown to fresh-snow white.
When the snow finally arrives on a dark, wind-whipped night, its long icy fingers cannot find the long-tailed weasel. He has retreated to his warm den, lined with straw and scraps of fur, to sleep until the sun shines on the calm new snow of morning.
The species depicted here are a long-tailed weasel (Neogale frenata) and western bunchberry (Cornus unalaschkensis). This painting was created with ink, watercolor, and gouache, with a handcrafted western redcedar frame. The total dimensions of the framed work are 10″x12″ (8″x10″ unframed).
Product Height: 12"
Product Width: 10"

$385 $385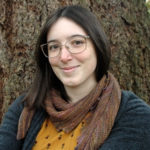 Emily Poole
Emily Poole is a natural history illustrator living in the mossy hills of Oregon. She can be found exploring tidepools and cliffsides, gathering inspiration and making artwork about our fellow species and how to be better neighbors with them.
EXTENDED GALLERY
Beyond the every day, these are pieces a little bit more than our daily offering.