WANT TO BUY EARLY?
Unlock 30 minutes early on our mailing list
Secret Garden
by Ania Mohrbacher
There's a little greenhouse, hidden somewhere within a lush landscape.  A young girl comes by there often, but she's not the only visitor there.  The girl is not certain, but she suspects that somehow the greenhouse is much larger inside than it appears from the outside. Sometimes when she's really quiet, she sees a dash of white, hiding in the bushes.  She senses that it's not an evil creature, and hopes that maybe someday if she's really patient, the "white ghost" will come out, and let her see it.  Perhaps that creature knows how to get inside of that greenhouse. Perhaps someday she'll be able to go in.
Product Height: 10"
Product Width: 8"
Product Surface / Material: Watercolor Paper

$700 $700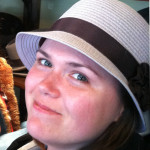 Ania Mohrbacher
Ania Mohrbacher is an imaginative fantasy artist living and working in Sarasota. While she has experience with a variety of traditional media, her current favorite is watercolor. She is currently working independently, creating work for self-published projects.

Using classic fairy tale characters and themes, Ania builds enchanting moments of wonder and melancholy with a noticeably surreal bend. Every piece is infused with a style of unique organic pattern work that makes her drawings instantly recognizable. Her individual language of patterns and textures permeate every character and object in her worlds giving them a distinctly dreamlike quality.