WANT TO BUY EARLY?
Unlock the Add To Cart button
30 minutes early
Queen Mab and her Moss-Radish Entourage
by Melissa Sue Stanley
Mab is a Fae Woolbeast, one of the Old Ones who live deep in the dusky parts of the Forest. She wanders at twilight, and in her wake brilliant moss springs to life filled with all sorts of strange creatures and delights…
Mab stands alone about 4.5" high and is a resin cast of an original sculpture. She's hand-painted, with watercolor & glass eyes. Her wee entourage is also hand-painted resin, and the four of them come with a small wool felt "moss landscape" to live in.
Keep out of direct sunlight and damp places. Small parts ~ not for children.
$200 $200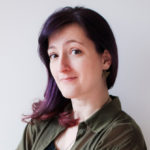 Melissa Sue Stanley
Lush green and blue landscapes of Midwestern summers are the heart of what inspires Melissa. Her work explores open fields and deep forests, finding small moments of magic and mystery hidden in the gardens and mossy environments. Her storytelling project, The Woolbeasts, discovers the denizens of these worlds.

The Woolbeasts are all hand-crafted in her "Treehouse Studio" in Chicago, Illinois. Melissa has been sewing, sculpting, and illustrating these creatures for fifteen years. They've been collected over the world and have been shown in galleries across the United States.



EXTENDED GALLERY
Beyond the every day, these are pieces a little bit more than our daily offering.