Mother Mortis
by Andrew Sides
"In the moonlit shroud of the forgotten church the statue of Mother Mortis, the saint of the defeated and slain, stands as the wild garden consumes her temple around her." This is an entry in my Shadowed Garden series, an exploration of myths and ancient deities that inhabit a mysterious forest.
The painting is acrylic and colored pencil on illustration board and measures 10″ x 15″ and is matted to be framed in a 16″ x 20″  frame.
Product Height: 15"
Product Width: 10

$400 $400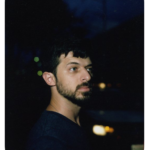 Andrew Sides
Andrew Sides is a freelance illustrator who lives in Orlando, FL. In his free time he dreams of dark fantasies and dinosaurs.