"Lunar Lurker"
"Lunar Lurker"
8″ x 12″ watercolor on paper
Framed with distressed silver molding, non-glare plexiglass, spacers, and archival backing.
Everything has a dark side.
$575 $575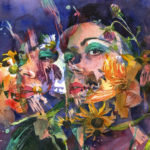 Joanna Barnum
Joanna Barnum is a fine artist and illustrator using watercolor to express universal emotional states and the unique spirits of her portrait subjects, balancing experimental, abstract use of the media with sensitive realism and symbolism. She is based in Abingdon, Maryland and is a Signature Member of the National Watercolor Society.