WANT TO BUY EARLY?
Unlock 30 minutes early on our mailing list
Luminous
by Kelsey Garland
"Butterfly,
Lord of Change,  I call on you to change me.
May the blazing colors of your fragile wings 
remind me of the beauty found in Impermanence,
of the connections importance of wind.
Show me the path to what comes next,
you who has touched Death in your Metamorphosis
and emerged something new.
Flutter into my life, Winged Spirit, and teach me
to recognize change as it arrives,
to welcome it more and fear it less,
to trust that you will protect and guide me
through the Darkness of chrysalis,
 into the Brightness of a New World,
a New Day, a New Self. 
Butterfly, I call on you." - Travis Bowman


"Luminous"  7 inch Circle, 2019
Alcohol inks, Acrylics and Oil paint suspended in layers of ArtResin, $300

This Mixed Media Painting shows a Karner Blue Butterfly over a Golden Geometric Triangle Pattern and an Abstract Alcohol Ink Pattern. 
Each layer of the painting is separated by a thing layer of Resin, adding dimension and creating a more three-dimensional artwork. There is no
substrate involved in this artwork, the entire painting is handmade with layers of resin and paint.  The alcohol ink background adds an additional
textural element to the piece that compliments the Butterfly and adds depth. Karner Blues are an endangered species is North America and are on 
the Xerces List of endangered species. I intentionally left the right wing as a skeleton wing to bring light their endangerment in the wild. 

This piece is a 7 inch Circle is about 1 inch thick, it weighs about 1.25 lb.  I've attached a sawtooth bracket to the back of the painting for simple and 
seamless hanging. 

Please visit my website  kelseygarland.com for more of my artwork.
$300 $300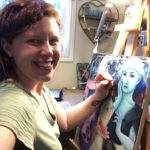 Kelsey Garland
Kelsey Garland is a Mixed Media Painter who uses ArtResin and Oil Paint to create unique three dimensional artwork. Her paintings often depict realistic animals or figures on top of a geometric pattern and an abstract alcohol ink background. She uses Resin to "layer" her paintings, alternating between detailed Oil imagery and thick layers of transparent Resin.

Kelsey graduated from Cornish College of the Arts in Seattle with a BFA in Fine Art. She is now a Stay at Home mom to two boys in the Tacoma area.