WANT TO BUY EARLY?
Unlock the Add To Cart button
30 minutes early
La Primavera (Spring)
by Paige Carpenter
This spring as it comes bursts up in bonfires green,
Wild puffing of emerald trees, and flame-filled bushes…
I am amazed at this spring, this conflagration
Of green fires lit on the soil of the earth, this blaze
Of growing…
-The Enkindled Spring, D.H. Lawrence
Original oil painting on archival paper mounted on board.  Framed in a vintage gilded wood frame.
Painting size (without frame): 5.5 x 4.5 inches.
In-frame size: 9 x 8 inches.
$480 $480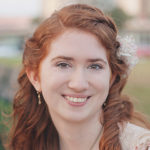 Paige Carpenter
Paige Carpenter is a fantasy artist living in Houston, Texas. She works mainly in oil, and occasionally watercolor. Her work explores beauty and mystery. She believes that truth can be revealed through the fantastic, and strives to show this through her art. She loves Norse mythology, reading, and gardening.

Other ways to support Paige's work:
Shop: http://paigecarpenter.com/store



EXTENDED GALLERY
Beyond the every day, these are pieces a little bit more than our daily offering.