WANT TO BUY EARLY?
Unlock 30 minutes early on our mailing list
Its You. Its Me. Its Us.
by Kelsey Garland
"I have no honeyed words to speak, it is fierce out there…but you are fiercer." – Haunting of Bly Manor
Loosely inspired by Netflix's The Haunting of Bly Manor.
She's gotten tucked away in a bad web of memories and all she sees are fragmented strands of the web…and a little Widow taking over her soul.
Because mixing up love and possession can be a dangerous thing, and yet somehow we always tend to…
This mixed media painting is made entirely of Resin, Alcohol inks, Oil paint and polymer clay. The background is made with resin and alcohol inks, creating a vibrant orange, black and silver abstract background. A thin layer of clear resin separates the web iris, orange eyelid and eye, and the larger web and black widow spider, which are made with polymer clay and also hand painted. The entire painting has been gloss coated in resin to provide a glossy, protective finish for this three-dimensional artwork. A sawtooth bracket is attached to the back for simple and wireless hanging. This painting is a 7 inch circle and is about an inch thick (1.5 inches with the spider)
$300 $300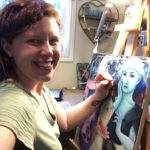 Kelsey Garland
Kelsey Garland is a Mixed Media Painter who uses ArtResin and Oil Paint to create unique three dimensional artwork. Her paintings often depict realistic animals or figures on top of a geometric pattern and an abstract alcohol ink background. She uses Resin to "layer" her paintings, alternating between detailed Oil imagery and thick layers of transparent Resin.

Kelsey graduated from Cornish College of the Arts in Seattle with a BFA in Fine Art. She is now a Stay at Home mom to two boys in the Tacoma area.