WANT TO BUY EARLY?
Unlock the Add To Cart button
30 minutes early
Her Soul Belongs to Summertime
by KelseyGarland
"Her soul belongs to Summertime; graceful footsteps on warm sands. A heart that leaps in Ocean waves; Sea salt memory in her hands…"    — Angie Weiland-Crosby
My soul has always been drawn to the water. I feel the ocean pull at my heart on warm summer days. The water calms me and erases my worries and I can finally breathe again.
When I can't make it to the warmth of the water, I daydream. I dream of swimming with sea turtles above Hawaiian reefs, I dream of floating among the jelly fish. And then part of me feels whole again…
This painting is made entirely of Art Resin, Ranger Alcohol Inks, and Winsor & Newton Oil Paints. I paint directly onto the Resin and use molds to add resin layers, full encasing my paintings while also creating a unique, three-dimensional portrait.
Depicted is a double-exposure style portrait of a woman. She has light blue to purple ombre skin and bright purple eyes. In the silhouette of her head is an Hawaiian Ocean scene, showing a coral reef with sea turtles, jelly fish and several tropical fish. Each image is hand painted with oil paints and layered over other painted images with clear resin, to create a three-dimensional portrait. The background is made with Resin and Alcohol Inks, white Ink weighs down the colored inks and pulls them into the resin, creating textures that are truly one of a kind. The entire painting is gloss coated in clear resin and two sawtooth brackets have been attached to the back for easy and seamless hanging. The painting measures 11.5 x 10  inches and is about 1 inch thick, it weighs 4.2 pounds.
** I apologize for the matte, sanded edges in my images! the oil paint on the Turtle is still drying so I have not been able to do the final Gloss coat yet. the Final Painting will have glossy, clear edges and all the ink textures and layers will be visible. I've included older photos to show some of the textures as well, the final edges will be smoother however. **
For more of my artwork please visit my website or Instagram, kelseygarland.com and @kelsey_garlandart.
$500 $500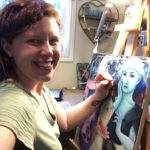 KelseyGarland
Kelsey Garland is a Mixed Media Painter who uses ArtResin and Oil Paint to create unique three dimensional artwork. Her paintings often depict realistic animals or figures on top of a geometric pattern and an abstract alcohol ink background. She uses Resin to "layer" her paintings, alternating between detailed Oil imagery and thick layers of transparent Resin.

Kelsey graduated from Cornish College of the Arts in Seattle with a BFA in Fine Art. She is now a Stay at Home mom to two boys in the Tacoma area.



EXTENDED GALLERY
Beyond the every day, these are pieces a little bit more than our daily offering.