Ekwensu (Dance of the Summoner IV)
by Odera Igbokwe
Ekwensu, god of chaos and change
We blame you for trickery and evil
But you are the companion at the crossroads
You test our will and
Shatter the mask that clouds our vision
. . . . . . . . . . . . .

Ekwensu (Dance of the Summoner IV)
Acrylic & mixed media on board.
5 x 7 (fit to 8×10 matte)
---
This is a portrait inspired by Ekwensu, the Nigerian (igbo) deity of chaos, change, and negotiations. They are part of my patreon, Melanin Mythologies, where I explore fantasy/scifi that centers the African Diaspora, intersectionality, and QPOC. Feel free to become my patron at www.patreon.com/Odera for exclusive images and rewards.
The series Dance of the Summoner, started with redesigning classic RPG archetypes (Knight, Mage, Archer, etc) which lead to envisioning the spirits and deities (or Final Fantasy-esque Summons/Espers/Eidolons) of this world.
*Please note this piece will ship after March 5th as it is currently on display
$300 $300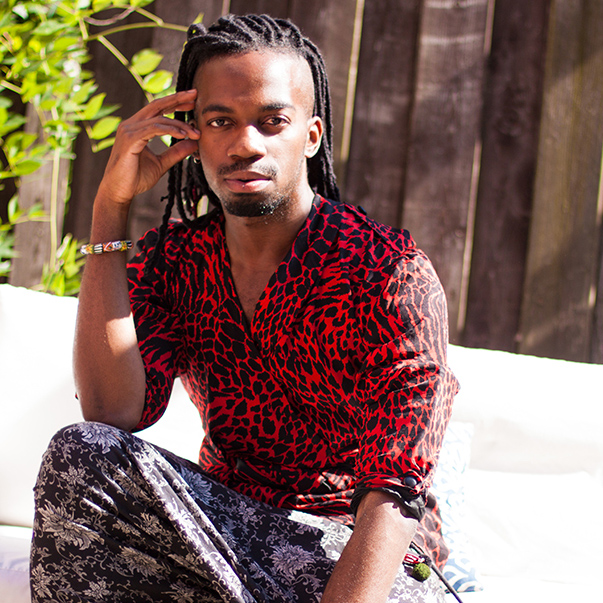 Odera Igbokwe
Assistant and part of team Every Day Original.
Odera is a graduate of Rhode Island School of Design,
where they earned their BFA in Illustration.
At Brown University, Odera studied movement-theater
and west African dance with New Works/World Traditions.
As an illustrator, Odera loves to explore storytelling through character archetypes, afro-diasporic mythologies, and magical girl transformation sequences. In Odera's spare time, you can find them taking plenty of dance breaks , discussing the identity politics of RPG characters, and trying to combo break the internet.



HOLIDAY SHOPPING?
We are gifting FREE shipping through Dec 23rd
CHECK OUT THE LATEST RELEASE