WANT TO BUY EARLY?
Unlock the Add To Cart button
30 minutes early
Cypress House
by Jeremy Wilson
The air was thick, oppressing me as I went on, the light fleeing from behind the cypress trees that depressed and overtook the scenery as I delved deeper down the uninhabited road. Suddenly, just as the forest was swallowed in a cool darkness belying the humidity, a sliver of dying light rallied and illuminated a, until this point, hidden house. I had not been aware of it as I passed excepting some vague idea of its shape and presence, as if it was meaning to hide. Trying to make sense of the areas in shadow was like trying to make sense of something sensed out of the corner of one's eye. Shapes were undefined, but it was grand in its decrepitude, almost melding into the thick trees and unknown growth surrounding it. A porch, balcony and utilitarian concrete stairs jutted out from the gloom, flooded with golden light. At the same moment the house was revealed, a light on the second floor winked on like an eye springing open. I could feel the house watching me in the fading light, an intruder on it's concealment.
Product Height: 11"
Product Surface / Material: Primed Panel
Product Width: 14"

$500 $500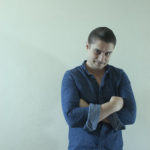 Jeremy Wilson
Jeremy Wilson is a Virginia transplant, living and working in Richmond. He grew up in a small town in Upstate New York in an art household, surrounded by fine art and classic illustration. His background was traditional painting at the Lyme Academy College of Fine Art and since has been pushing the limits of painted versus negative space. He seeks to perfect his images through design and negative space, carefully curating shapes to imply space.
He has done work for Editorial, Book, Magazine, and Comics. Most recently working for: Scientific American Magazine, Boom! Comics, Titan Comics, and Wizards of the Coast.

His images have been included in Spectrum 20, 21, 22, 24 Society of Illustrators West: 54, 55, Infected by art 1, 3, ARC Salon 2013, and at the Society of Illustrators for the Spectrum exhibit 2014.

His work has been awarded medals for:
Society of Illustrators Los Angeles 54; Gold (Editorial)
Society of Illustrators Los Angeles 55 Gold, Bronze (Book), Gold, Bronze (Comics), Gold (Entertainment Development), Silver (Gallery)
Spectrum 24; Gold (Comics)



EXTENDED GALLERY
Beyond the every day, these are pieces a little bit more than our daily offering.