Consumed
by TawnyFritz
We find ourselves so consumed by what we want, by what we do not have, that our eyes and our hearts are closed to the beauty shining and growing around us, reaching for us, vying for our attentions. Out of darkness, light emerges. We must be ready to accept the light.
(Lilith, consumed by the loss of Eden, as yet unable to embrace the full moon and the life that grows around her)
Ink on Ampersand Claybord
11″x14″
Lilith will be shipped securely and unframed. She is 11″x14″, a standard frame size, so you can find the perfect frame to match your gallery decor!
Product Height: 14 inches
Product Width: 11 inches
Product Surface: Ampersand Claybord

$395 $395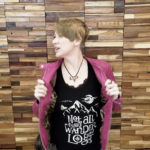 TawnyFritz
What day is it?

Tawny Fritz is from New Orleans. That should say all you need to know about the chaos that reigns inside her brainmeats, but how about some more info anyway? Tawny likes ink (a lot). She likes knives, nature, and for her art, confrontational subjects that stare into your soul. She also unironically loves long walks on the beach at sunset.

For personal commissions: info@tawnyfritz.com



HOLIDAY SHOPPING?
We are gifting FREE shipping through Dec 23rd
CHECK OUT THE LATEST RELEASE