WANT TO BUY EARLY?
Unlock the Add To Cart button
30 minutes early
Conflagration
by Matthew Huntley
Her heart was booming in her chest as the fire washed over her legs. She could feel the heat, no question, and even see the fact of its presence in the blackened cars and melted storefronts at her feet. But it didn't hurt as she waded through it. Not even a little.
She'd previously undergone the transformation to run drills and training exercises, but it wasn't the same as actually being called into service. The Director had warned her that the process of ascending changed the very core of her being; still, it was a shock to find that something so fundamental as being burned by flame no longer held true for her.
It was with a morbid excitement then, full of adrenaline, that she stared down the burning boulevard at the monstrous colossus rampaging through the city. The thing she'd been sent to vanquish, and the only thing that could harm her.
Oil on canvas on board, 9 x 12 inches
Framed in a black 12 x 15 inch frame
$385 $385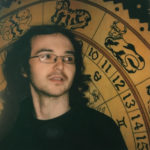 Matthew Huntley
Matthew Huntley combines childhood nostalgia for shows like Power Rangers, Powerpuff Girls, and Megas XLR with his love of Baroque and 19th century academic art, and he uses traditional materials to create large-scale narrative paintings of gigantic heroines and monsters. Inspired by memories of growing up in a dysfunctional household, his paintings explore non-traditional gender roles and femininity. He currently lives and works in Indianapolis, Indiana.
EXTENDED GALLERY
Beyond the every day, these are pieces a little bit more than our daily offering.