You cannot add "The Goodliest Land" to the cart because the product is out of stock.
WANT TO BUY EARLY?
Unlock 30 minutes early on our mailing list
Chaos of the Soul
by Kelsey Garland
The chaos of life tends to weigh on us. You dream of the days before, when you had it all but didn't know it. When you held the ocean in your hands and gladly watched it slip through your fingers.
"You may be drowning, my love, but the hands holding you under are your own. Use them to fight. You're not as far away as you feel" – Jade Alectra
This is Mixed media painting made entirely of ArtResin. There is no other substrate, just Alcohol inks and oil paint suspended in clear layers of Resin.
I use molds to create these unique Resin paintings. I start with a layer of alcohol inks and resin, this is the textures you see as the background of my paintings. I then layer with clear resin and paint directly on top of the Resin. I continue to layer resin over each painted image once it's dry. The entire painting is finished with a shiny gloss coat and two saw tooth brackets are embedded in the back for easy hanging.
This painting depicts a portrait of a mermaid, her scales slowly chipping away and barnacles slowly covering her face. She is layered over 3 mermaids and their mer-babies. There is a layer of pink and gold koi fish behind them and then a mermaid scale pattern over the alcohol ink background. The entire painting is encased in clear resin and measures 9.5 by 11.25 inches, it is 1.5 inches thick and weighs 5.8 pounds.
for more of my artwork, past and future, please visit kelseygarland.com or @kelsey_garlandart on Instagram.
Surface: ArtResin, Empoxy Resin, Winsor & Newton Oil Paints, Ranger Alcohol Inks

$450 $450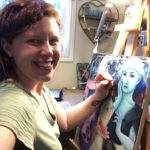 Kelsey Garland
Kelsey Garland is a Mixed Media Painter who uses ArtResin and Oil Paint to create unique three dimensional artwork. Her paintings often depict realistic animals or figures on top of a geometric pattern and an abstract alcohol ink background. She uses Resin to "layer" her paintings, alternating between detailed Oil imagery and thick layers of transparent Resin.

Kelsey graduated from Cornish College of the Arts in Seattle with a BFA in Fine Art. She is now a Stay at Home mom to two boys in the Tacoma area.