Can't Take It With You
by TawnyFritz
Pushing. Striving. Grinding. Hustling. Killing ourselves to achieve the perfect version of someone else's idea of success.
You can't take it with you.
Imperfectly sketched, inked, and scratched onto Ampersand claybord, Take It With You is a commentary on how hard we work, missing out on Life, to achieve things we can't hold onto forever. These things we create may live on beyond our mortal life, who will be there to remember? Are we willing to sacrifice the one life we get to live to be remembered by people we will never know? Create beautiful things, but don't forget to Live while you do it.
Can't Take It With You
Ink on Clayboard
11″x14″
Product Height: 11"
Product Width: 14"
Product Surface: Ampersand Claybord

$465 $465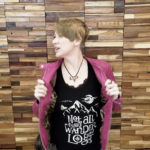 TawnyFritz
What day is it?

Tawny Fritz is from New Orleans. That should say all you need to know about the chaos that reigns inside her brainmeats, but how about some more info anyway? Tawny likes ink (a lot). She likes knives, nature, and for her art, confrontational subjects that stare into your soul. She also unironically loves long walks on the beach at sunset.

For personal commissions: info@tawnyfritz.com