Athena
by Paige Carpenter
Athena, goddess of wisdom and warfare.
I sing of Pallas Athena, the glorious goddess, bright-eyed,
Inventive, unbending of heart, pure virgin, savior of cities, courageous, thrice-born.
-Homeric hymn to Athena
Original oil painting on archival paper mounted on board.
Painting size (without frame): 10 x 8 inches.
In-frame size: 13.5 x 11.5 inches.
$500 $500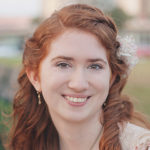 Paige Carpenter
Paige Carpenter is a fantasy artist living in Houston, Texas. She works mainly in oil, and occasionally watercolor. Her work explores beauty and mystery. She believes that truth can be revealed through the fantastic, and strives to show this through her art. She loves Norse mythology, reading, and gardening.

Other ways to support Paige's work:
Shop: http://paigecarpenter.com/store