Adorned
by Elliot Lang
'Adorned' is an ink and metallic acrylic painting on masonite.
This painting has features that shift in different light settings, because of the unique qualities of the metallic paints, offering up a different experience from how you view it.
'Adorned' is 12″ x 18″ in a custom shadow-box-style frame ready to hang on your wall.
$500 $500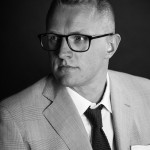 Elliot Lang
Elliot Lang is a Denver-based illustrator and gallery artist, working in advertising, packaging, editorial and book illustration. He has been a contributor to Every Day Original since 2014. Client list, apparel, merchandise and more available on elliotlang.com/store