A Little Prince
by RandyVargas
"A Little Prince" is an original drawing, 6,6″ x  5,1″ or 17 cm x 13 cm  graphite on paper, drawing measures Ø 4,4″ or Ø 11,2 cm
*Frames and matts not included.
Product Height 12": 6,6 inches
Product Width 16": 5,1 inches

$400 $400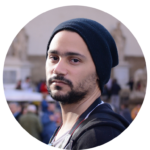 RandyVargas
Randy Vargas is a Science fiction & Fantasy Illustrator from Cuba, currently based in Barcelona, Spain. A big part of his work can be found in fantasy games as Magic the Gathering and book covers.