Without Consent
15% of the artist's proceeds from this artwork will be donated to RAINN.
$450 $450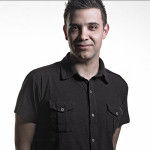 Randy Gallegos
Randy has worked professionally as a visual artist for 25 years, getting his start and most lasting visibility through Wizards of the Coast's Magic: the Gathering game, which he began illustrating for in 1994.

He continues illustrating for the game and other clients, while increasingly devoting time to gallery work that spans traditional landscape and still life, to figurative personal work and a series of still life art celebrating the history of video game hardware.