Spring Awakening
by Nicole Grosjean
7.5″ x 7.5″ x 3″
Hand-Cut Paper, Eggshell, Mica, Watercolor, Gouache, and LED Lights
Spring awakens all that has been dormant, including this little hatchling safe in a gold filled nest. I hand wove the entire nest with hundreds of strips of fine art paper, and lined it with shimmery mica flakes. The piece is lit up with one LED light strip around the edge, and a rotating color light inside the egg. The piece comes with a battery pack as well as a power cord for versatility, and is finished in a solid maple frame.
$450 $450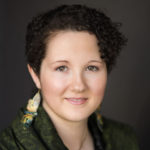 Nicole Grosjean
Nicole Grosjean graduated with a BFA in illustration from the Rocky Mountain College of Art + Design in Denver, Colorado in 2008. She combines her passions for fantasy and craftsmanship into unique, multi-layered works of art. To her, there is nothing more valuable than an object an artist has created with their own hands. She endeavors to build pieces that are not only illustrations, but wonderfully complex environments in their own right. Nicole is constantly trying new techniques and pushing the boundaries of materials and mediums to bring her visions to life.

Her sculptural illustrations are patterned from detailed drawings, hand-cut, and then layered to create various depths depending on the size of the piece. The layers are then painted in watercolor and gouache, and are often back lit with LED lights.