Portrait of my brother; Death
by Eli Minaya
I arrive at my classroom and a few seats are already filled. Some of those students are even awake. I remember studying with Osiris suddenly. Books spread out across a table, small snacks, glasses filled with kool-aid, mother in the next room busy with the things mothers are busy with, and the mutual silence of companionship.
The memory juts out like a spike and I drop my bag. This disturbs no one but me. I leave my bag on the floor and go to the restroom. When I arrive, I cry sloppily in a stall, muffling the sobs every time I hear the door open. I press my eyes shut and I feel as if I will scream. When I hear footsteps move back toward the door and leave no scream comes, but the tears flow and my body becomes a river. It feels as if the sun heats the surface of my skin and beneath it, where I kept all of whatever I have for Osiris, melts and becomes a deluge. The flow goes on forever, and the waters rise to the riverbanks, but ultimately recede again.
When it's over, I sit there, numb and drying.
I go to the sink to clean myself up and inspect the damage, "Show me my life. Show me my life…" I say to my reflection.
The door opens, "Ann, are you alright?".
I don't turn, but I reply to Jess's reflection in the mirror, "… My brother died." I say nothing more. I'm late for class.
-excerpt from "Songs and Stories about my brother, Death" by Eli Minaya
Product Height: 10 inch
Product Width: 10 inch

$250 $250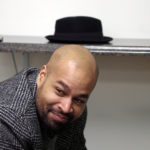 Eli Minaya