Our mailing list gets early access every day.
Peony
Chapter 2: The Garden of Live Flowers – Alice in Wonderland by Lewis Carroll.
"Alice was so astonished that she could not speak for a minute: it quite seemed to take her breath away. "
View a video of the making of this artwork by clicking here.
$350 $350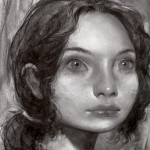 Ashly Lovett
Ashly Lovett is a freelance illustrator and gallery artist working primarily with chalk pastel for the horror and fantasy genre. She is known for her illustrative portraiture with romanticism undertones. She has done licensed work for Jim Henson Company, Adult Swim, Netflix, Focus Features, Archie Comics, and Monty Python, etc. She received her BA in illustration from Ringling College of Art and Design and has been published in Spectrum Fantasy Art Annual 22-26, Society of Illustrators of Los Angeles, Infected by Art Vol 5-7, and more. Clients include Boom! Publishing, Lindstrom LLC., Hackle TV, ArtOrder, etc.